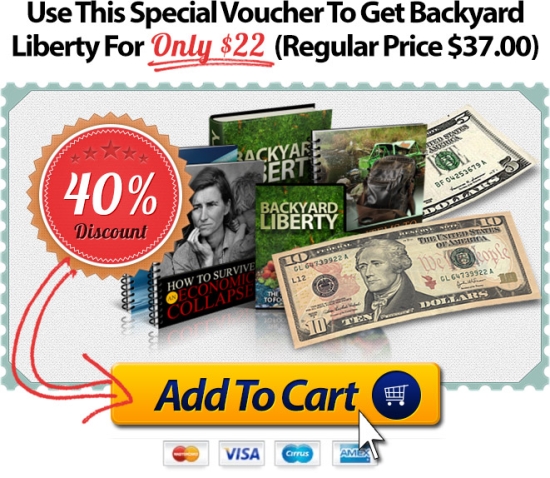 The opportunity to keep your family healthy and well fed when the coming food collapse strikes is just too important to ignore.
This system is so simple to build, and brings you such peace of mind...I simply couldn't forgive myself if you didn't try it because of the price. That's why I'm giving you this special 40% off voucher - only valid while you're on this page...
And don't forget, everything you are getting today is 100% GUARANTEED.
Try it now risk free – Because you must set up your own never-ending supply of fresh fish and vegetables today, and there's never been an easier or more painless way to do it. Plus, you're covered for two months by my money back guarantee, so you have absolutely nothing to lose...
Use Your Voucher Now And You Will Achieve Total Food Independence In Less Than 28 Days...
Here's what's inside Backyard Liberty...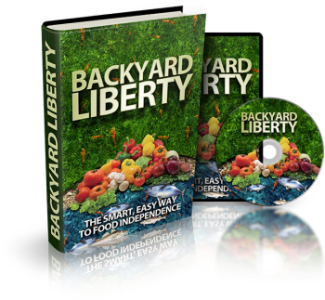 A step-by-step video guide showing you in EXPLICIT detail how to create your own pocket sized "Garden of Eden." Gain a never ending supply of drippingly-fresh fish and produce that will keep your family healthy during the coming food collapse.
The in-depth video instructions practically builds your aquaponics for you. You'll use only common parts and supplies that can be found in your local hardware store, and the whole system costs $190 to make.
Anyone can do this. The instructions are so easy and the construction is so simple. And because you'll be growing your vegetables in raised bed, even those with bad backs or joint pain will have no trouble building this life-saving system.
Save thousands of dollars compared to paying for your own stockpile. Be free from the worries of your food sources expiring, and have delicious, tasty meals 3 times a day – instead of soggy, salty canned vegetables...
Enjoy high protein and vitamin-rich foods from your own backyard. While others are digging through dumpsters for scraps, your loved ones will be sleeping soundly in their own beds with food in their stomachs...
It's a low input, high output food generating system. Do one 10 minute maintenance checkup every day, and never worry about where your next meal will come from...
You'll cut your grocery bill by up to 90% in just 4 short weeks. You'll never need to buy fish from the store again, and you'll never need to pay for several week old vegetables that have been shipped to the market from halfway across the world.
And it's all natural. No pesticides, no fertilizers, and no chemicals, just the freshest carrots, tomatoes, lettuce, squash, potatoes, fresh fish, and other foods that you've ever tasted.
Plus – your permanent pantry can be grown vertically, taking up 95% less space, and using only 10% of the water a traditional garden requires.
And You'll Still Get All Of The Bonuses For This Special Discounted Price!
How To Build a Water Biofilter